You Don't Wear Leotards When You Visit the Queen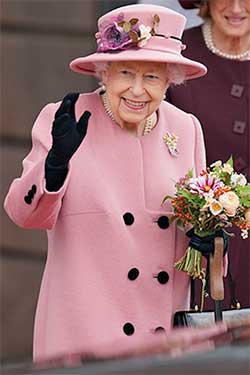 I AM GRATEFUL
to be living back in Canada the day our Queen died. There is something to be said for societal identity and collective grief.
When Princess Elizabeth was crowned Queen, I was five days old. Which means she's been my queen all my life. Seventy years. And although I've spent most of my life in the States, loyalty to her has always been a big part of who I am.
I suspect much is due to my grandfather. He was a
royalist
and took me to see her when I was 7. She'd come to Vancouver for a visit, and a visit Grandpa intended to have.
.

.
.
---
Grandpa had emigrated from England when he was 10 and missed the Coronation of George V by two months. Quite a ta-doo back home, his left-behind family writing to Canada all about it. After Grandpa died, a shoebox in his closet revealed a "Souvenir of the Coronation" envelope, sent by his grandmother Martha Gristwood Wilbee.
Also in the shoebox were pictures of the Wilbee parade coach—one the family made for the Sarratt / Croxley Green festivities. A beauty, drawn by white horses. Wilbees riding atop, riding in the coach, on the coach. Huzzah huzzah!
The Wilbees won first place.
Of course they did!
Grandpa's royal enthusiasm unabated, I caught his excitement while waiting in the crowds flanking a highway. When Queen Elizabeth approached, Grandpa quick hoisted me to his shoulders. I managed a shy wave. She nodded my way and moved on. Did she see me? Grandpa said yes.
I too was 10 when I emigrated—my family to the States. I keenly felt the loss of my country and crown. I missed belonging. I missed the Commonwealth, missed being one of millions in countries holding allegiance to the same person—our Queen. It gave me a sense of solidarity I lacked in the States.
So my move to Victoria, BC, in this the seventieth year of my life,
I find myself oddly comforted to be with people who share a common heritage,
who share a societal tradition and who collectively mourn the passing of a woman many of us held tender in our hearts. And I sense a subterranean shift in my identity, an era gone by.
My mother used to say that you don't visit the Queen in leotards, so you don't wear them to church. So, Mum, do I wear them to visit the King?
The Queen is dead, long life the King.