The Tinsy Winsy Rag,
your monthly connect to this writer's life - and
always something
free & fun.




Blog Subjects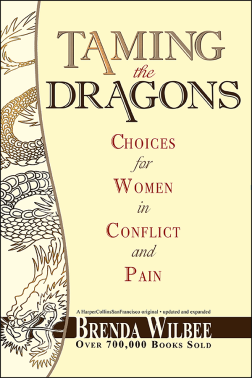 Taming the Dragons: Powerful Choices for Women in Conflict and Pain
By Brenda Wilbee
Published by Redemption Press
Are you overwhelmed, in despair, heartsick, or in danger? Not sure which way to turn? Whom to trust? Once upon a time ... the raging dragon ... a damsel in distress. It worked out well in our fairy tales, but what about real life?
In this highly creative approach to problems all women face today and in varying degrees throughout their lives, Wilbee identifies six choices women have when beleaguered by conflict and challenge. She partners six biblical women with characters from The Wizard of Oz, naming choices for Innocent, Orphan, Pilgrim, Martyr, Warrior, and Wizard. She then skillfully weaves in characters from other stories and tales, along with women from history and today, from literature and her own life to illustrate how these choices empower women in difficult times, moving them from want to abundance—for themselves and others.
Beginning with Eve the Innocent, Wilbee asserts that while some of us might want to go back to the Garden of Eden or Kansas where innocence dwells, no one can. It's only by making choices to tame our dragons—and by walking the metaphorical yellow brick road of our inner journeys—that we can, and do, find the Happily Ever After of our fairy tales and the Abundant Life Jesus promises us all.
Each chapter concludes with a motivational section that includes journaling pages, "Something to Ponder," and prayers for courage and hope.
"This book provides alternatives to despair and ... offers hope instead."
- Morton Kelsey, Psychology, Medicine & Christian Healing and Reaching
saddle | 266 pages | $17.95 USD | 6x9 | 978-1-6464-107-4 | July 22, 2020