Redirection
THIS NEW YEAR SEES ME
focusing on design over writing. For those of you who're wondering why the change, here is the answer. . .
---
Before I could print, I drew. I majored too in art at Grand Canyon College (now university) way back in the early '70s. But I began to develop allergies to the paints and charcoal and switched to writing, something I'd always done. Annoyingly, I'm one of those gals who quit school to put a husband through a postgraduate degree, so it was years before I could take care of own education. This time it was to Fairhaven College of Bellingham WA, where I did an integrated BA in Creative Writing, Art, and Women's History—a combination of everything I loved. I then went over to the main campus of Western Washington University, taught English 101, wrote my fourth book, and did my MA in English/Professional Writing.
Another ten years and another few books later, I was teaching English at two community colleges and AT&T online. During my tenure at Whatcom Community College, I discovered the Visual Communications program down the hall and signed up. Between grading 50 essays a week, I plugged away in Photoshop, Indesign, Illustrator, Dreamweaver, Qwark, and other design programs. With great joy, I discovered I could actually get the art
in
my head
out
—my love of art having
not
gone away at all—by using a computer instead of itchy-eye chalk, charcoal, and toxic paint supplies.
So why book covers? I'm one of those writers who loathes
her covers, so it made sense to redesign them with my new skills. I thus stumbled onto cover design, and I've been doing it ever since, along with interior book design, editing, and typesetting.
Today I putz away on my memoir, not easy or fun. Design is fun. Hence a new focus. Check out my latest project for Deanna Nowadnick. I took her from premise to publishing. The challenge here, after editing her book, was to design a cover that coordinated with her other two books, manipulate her sometimes not-so-great photographs, and create a light and airy interior reflecting feminine energy versus male or utilitarian.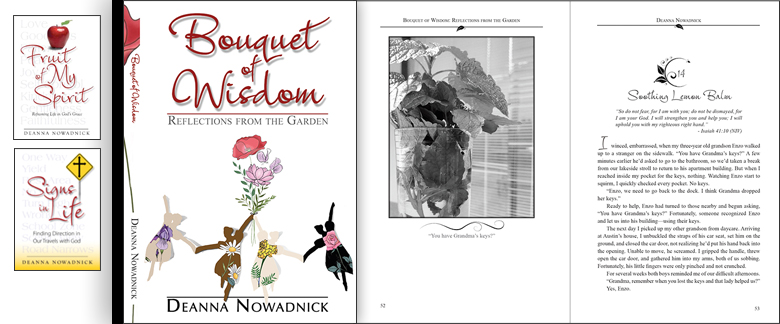 If any of you are interested in talking to me about your project, take a look at the YOUR Book! tab. I can help you make it happen.