Seattle's Start: Cherry Grove, IL
SEATTLE'S ROOTS
come from Cherry Grove, IL, a town you'll never find on the map. Not even Terry Hogan, who grew up a "handful of miles" away, knew it existed. Yet it does; and several years ago I was invited by Marie Olinger of the Cherry Grove community to come and sign my
Seattle Sweetbriar books
—and to glean their personal histories, pictures, and memories for anything I might find interesting or useful. A bonanza for any biographical novelist.
Let me walk you through Louisa Boren Denny's home town, where Seattle began. From school teacher to Seattle's Sweetbriar Bride, Louisa was an independent woman in 1851.
Marie and others in the community drove me through farmland once dominated by her grandparents and the humomgous Latimer clan who founded the town: Anna and Joseph Latimer, and seven of their ten children, owned over 2,000 acres. Daughter Sarah, second husband John Denny, and eight of their grown children and four grandchildren drove down this very road in four covered wagons, 1851, destination Oregon. Some ended up on Puget Sound, Washington State. Sarah's daughter Louisa Boren, who grew up here, became Seattle's "Sweetbriar Bride."
A quick glance at an old plat reveals the eight quarter-sections Joseph and Anna and their seven children owned. At some point daughter Sarah acquired another half-section south of her brother Jonathon, which in 1843 she seems to have given to her daughter Mary Ann—and her husband Arthur Denny. Five years later, she deeded the land immediately to the north to Arthur's father, whom she married a few days later. Nice wedding present, John.
Forty-one and married again after raising three children since they were 1, 3, and 6 years old, Sarah split her original quarter section between Mary Ann, Dobbins, and Louisa. Which means Louisa—who became Seattle's Sweetbriar Bride—had her own land when they left: A woman of independent means, with a sense of destiny firmly in hand.
The home she grew up in no longer exists. Subsequent owners remodeld by pulling out the retaining walls. Oops. Today's "Sweetbriar Farm" therefore as a moden home built near the property's eastern edge. If you take the road to your left, you travel the south edge of Anna and Joseph's patch. Go left, you're in Sarah's, subdivided in three for Mary Ann, Dobbins, and Louisa. Some of the farmland gets a bit rumpled on the west side and is intersected by Latimer Creek.
George Latimer, with his wife Rebeccah and their slew of kids, lived on the quarter-section directly south. He raised Black Angus cattle and had a good-sized apple and pear orchard, and was one of the wealthiest men in the county.
Cherry Grove's only street bordered the south end of George's property, where homes "trespassed" the north side of the road. Cherry Grove Seminary sat on the south side. When the Latimer/Boren/Denny group left town, the seminary was nationally recognized for quality education and Christian training. Students came from all over the country and were housed in the homes of various church members of Cherry Grove Cumberland Presbyterian Church. Started by Joseph Latimer when he first arrived in 1831, they met in the seminary once this larger building was erected. Here Louisa took her teacher's degree, where she excelled in astronomy, chemistry, and botany.
On this same side of the street but down a few yards was the one-room school house. In my books I set Pamelia as the teacher, positioning Louisa in a school thee miles to the north, in Desination.
Finally, Cherry Grove Cemetary. It sits under the trees at the top of the hill, all that remains of Seattle's birth place. And here near the front gate stands the very last of once many cherry trees.
Perhaps one of the most poignant stories to come out of Cherry Grove is that of Louisa and her best friend Pamelia Dunlap and their tearful goodbye: A story that gives Seattle the term "Sweetbriar Bride" and the name for my books, the
Seattle Sweetbriar Series
.
As the story goes (recorded by Louisa's niece Roberta Frye Watt in her book)
Four Wagons West
, Louisa and Pamelia meet for a last goodbye on April 10, 1851. In
my
story, I put Pamelia's house on the corner of Cherry Grove's only street and the Indian trail angling away from George Latimer's place, up toward his parents'. In reality, the Dunlap homestead continued on up that road. No matter, at Pamelia's the two friends said goodbye. The following excerpt is from the updated and expanded version of
Sweetbriar:


.
They both burst into tears.
"Pamelia, the sweetbriar seeds we collected last fall, do you still have them?"
"Yes, why?"
"What if we shared? I can plant my half in Oregon. You can plant yours. That way, when the flowers bloom each spring, we can think of each other. In this way we'll always be together."
Pamelia smiled, her beautiful smile. "A kind of tryst!"
"Yes! A tryst!
A tryst it was, and would always be!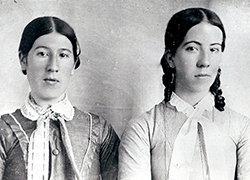 Before leaving, Louisa and her sister Mary Ann had their pictures taken. I wish we had a picture of Pamelia, but no one in Cherry Grove knows if one was ever taken.
Unfortunately, much of this information came after the sixth and final book was written, too late for inclusion. I'm in the process, however, of re-releasing updated versions, and because Sweetbriar has been significantly expanded, there will be seven, not six, books in the series. The two sections of Sweetbiar I'm splitting into two: Sweetbriar and Sweetbriar Promise.

This, then, is the end of the Cherry Grove tour. For further information, you can refer to the footnote below. Keep in mind that Hogan's report of John Denny taking his two youngest sons is incorrect. He took the five youngest of eight sons: Arthur (29), James (27), Sam (24), David (19), and Wiley (17). Only Arthur and David made it to Seattle.
Hogan also says he's unable to figure out why the Borens and Dennys went West. "A mystery," he writes. There's no mystery; and if you want to know why, you read can Sweetbriar.
2019 © Brenda Wilbee