Martyrdom: When The Choice is Ours
MARY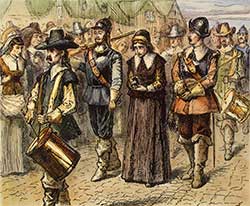 "This is my commandment, that you love one another as I have loved you. Greater love has no man than this, that a man lay down bis life for his friends." - John 15:12, 13 (RSV)
The Puritans, fleeing religious persecution in England, came to the American colonies to preach religious freedom, yet in that "free­dom" they committed unspeakable horrors against the Quakers. In a text we don't often read in the study of our history, we come to words too shy to speak full truth:
"William Brend, though the oldest of the band of [Quaker] missionaries, was called to pass through the most cruel sufferings that were meted out in Boston to any prisoner. The tale is too awful to tell in detail, but the inhumanity can be judged from the fact that one incident in his round of torture consisted of one hundred and seventeen blows on his bare back with a tarred rope. He was found dying— "his body having turned cold" and "his flesh having rotted..." John Norton, however, was still stout in his remorseless attitude, saying of William Brend: "He endeavored to beat the gospel ordinances black and blue, and it was but just to beat him black and blue."
Things deteriorated quickly in Boston. Quakers were fined in excess of £1,000, their were ears cut off, their children sold. Holes were bored through their tongues, they were imprisoned without food or heat, chained to logs, laid neck and heels in irons, publicly whipped, "H" for Heretic burnt into their hands. Their appeals to England were denied, their houses and land seized, atrocities culminating until, finally, in 1658, the clergy of the Massachusetts Colony executed a law that, after railing and abuse against the Quakers, stated:
"And the said person, being convicted to be of the sect of the Quakers, shall be sentenced to banishment, upon pain of death."
The test wasn't long in coming. In August of 1659 a Quaker minister by the name of Mary Dyer went to Boston to request a repeal. She was apprehended, tried, and banished upon pain of death. But the day she was released a colleague was appre­hended and imprisoned. Mary Dyer turned right around and went back. This time, William Robinson and Marmeduke Stephenson joined her.
All three were brought before the General Court on October 19, 1659, and asked by the Governor why they had come. To request the repeal of the unrighteous law, Mary stated again, "in obedience to the call of the Lord." With that "affrontive" reply, Governor Endicott chose to back his edict. "Hearken, you shall be led back to the place from whence you came and from thence to the place of execution," he thundered, "to be hanged on the gallows till you are dead!"
"The will of the Lord be done," said Mary Dyer quietly.
"Take her away, Marshall!" screamed Endicott.
"Yea, joyfully," said Mary, "shall I go."
October 27, 1659, they were marched to the gallows. William, Marmeduke, Mary between them, held hands. "Are you not ashamed," an official accosted Mary, "to walk thus between two young men?"
"No, this is to me the hour of the greatest joy I ever had in this world."
The men were hung first, then Mary took her place, arms bound, now legs, now the handkerchief laid over her face, and finally now the noose about her neck.

Suddenly, "Reprieve!"
The Court never intended to hang her. Governor John Winthrop of nearby Connecticut had pleaded on his knees before the Boston magistrates not to hang the Quakers. They let him have Mary, with this order written into the records:
It is ordered that the said Mary Dyer shall have liberty for forty-eight hours to depart out of this Jurisdiction, after which time, being found therein, she is to be forthwith executed. And it is further ordered that she shall be carried to the place of execution and there to stand upon the gallows with a rope about her neck until the Rest be executed; and then to return to the prison and remain as aforesaid.
But Mary Dyer refused to accept her life—so long as the law of death against her people remained. She returned for a third time in May to appear before the next General Court.
"Are you the same Mary Dyer that was here before?" Governor Endicott asked.
"I am the same."
"You will own yourself a Quaker, will you not?"
"I own myself to be reproachfully so called."
"This is no more than what thou saidst before. But now, it is to be executed."
"I came in obedience to the will of God at your last General Court, desiring you to repeal your unrighteous laws of banishment on pain of death; and that same is my word now, and earnest request, although I told you that if you refused to repeal them, the Lord would send others of His servants to witness against them."
One more time marched to the gallows, one more time arms bound, now feet, now noose about her neck "We will not hang you," said the authorities, "if you will promise to go home, back to Rhode Island." I wonder what her thoughts might have been. No one knows, but we do know what she said.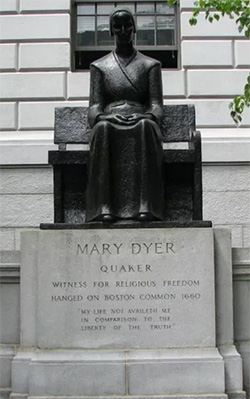 "Nay, I cannot. In obedience to the will of the Lord God I came and in His will I abide faithful to death."
Mary Dyer died that day in Boston, May 21, 1660. A minister of the Gospel, she chose to sacrifice herself that others might live. That day the governor and clergymen rejoiced, but the people who had witnessed the brutality did not. A petition was sent to England. Because of Mary Dyer, who committed herself thrice to die that others might live, religious persecution was immediately and henceforth stopped. By edict of King Charles.
Today a bronze statue of Mary Dyer stands on Boston's capitol grounds, within sight of the Commons where she was hung, a larger than life reminder to us all that there is always redemption in sacrifice—when the choice, once, twice, thrice, to give is ours.