Taming the Dragons: Mary, Mother of Jesus
This is a story from my book Taming the Dragons: Powerful Choices for Women in Conflict and Pain, a HarperSanFrancisco original soon to be republished by Redemption Press.
► THREE: CHOOSING TO SACRIFICE, From a Position of Power
"I can subdue this dragon through sacrifice!" - Ruth the Martyr
---
MARY, Mother of Jesus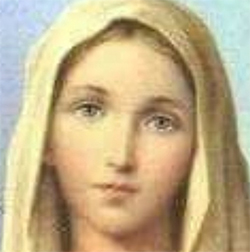 "Do not be afraid, Mary, you have found favor with God. You will be with child and give birth to a son, and you are to call him the name Jesus ... "

"How will this be," Mary asked the angel, "since I am a virgin?" - Luke 1:30-34 (NIV)

"WAS MARY fiance of Joseph, at the well in Nazareth when the stranger approached? Of was she washing butter, packing it into earthen vessels? What was she doing when a man she'd never seen before said, "Greeting, you who are hghly favored! The Lord is with you."

"Excuse me?"
I wonder, did the bucket fall from her hand, warm water splash across her hot and dusty feet? Did she drop her bowl? Did it break? Did she hasten to gather the precious butter coated now in dust and dirt? Kneeling, scooping, heart beating fast?
Artists for hundreds of years have attempted to draw the ex-pression on Mary's face when told the news of her virgin preg-nancy, a face sweet with angelic repose and acceptance. Yet the Bible tells us Mary was troubled. Her eyes must have darted, her fingers trembled. Her mind must have been a tumbler of thoughts and it must have been with great effort that she gathered her wits. "Excuse me, sir," she must have politely said. "But there is work I must do."
"Do not be afraid, Mary."
He knew her name?
Did her heart slow? Did she take a second look? Did she see the angel before her or only a man?
"You have found favor with God," the stranger told her. "You will be with child and give birth to a son, and you are to give him the name Jesus. He will be great and will be called the Son of the Most High."
Her hand involuntarily went to her abdomen. Does he talk of the Messiah?
"The Lord God will give him the throne of his father David, and he will reign over the house of Jacob forever; his kingdom will never end."
"But how will this be?" She blushed suddenly at the sound of her own voice and put her hands to her face. "Since I am a virgin?"
"The Holy Spirit will come upon you, and the power of the Most High will overshadow you. So the holy one to be born will be called the Son of God."
But this is impossible!
"Even Elizabeth your relative is going to have a child in her old age."
This too is impossible!
"She who is barren is in her sixth month. Nothing is impossible with God."
He could read her mind, and the thoughts tumbled about as Mary picked up her bucket or bowl and busied herself, drawing new water, resetting the butter. A child? Me? Elizabeth? But how? Who? Not the Messiah—surely the man jests! But was he a man? He stood as if waiting for a response.
No, I don't think Mary's face was one of sweet repose and calm acceptance. There could only have been fright. She had to have thought of Joseph, her betrothed. What would he say? He would divorce her. She could even be stoned. Did she gasp? Put a hand to her throat? Her father, her own father! What would her dear father think? But how could this be? It can't!
If it was water she'd drawn, did the man walk alongside her down the narrow streets toward her mother's home, carelessly bumping into children who darted too fast before them? If it was butter she'd been washing, did he take the pat from her hand and find a new bowl? Did he help pick up the broken shards?
How long did it take Mary to make her choice, a choice to martyr herself to the will of God, for surely this man must be an angel? How long did it take before she turned, eyes still troubled with things she couldn't understand, but mind made up, to say to the stranger—angel, "I am the Lord's servant."
We have no way of knowing. But we know it was her choice. She willingly sacrificed her reputation, her marriage, her very life to something she could not fully comprehend. "May it be to me as you have said," she said, giving the angel her consent.
It wasn't until Elizabeth, six months pregnant, confirmed the truth of the stranger's words that Mary's fear vanished and the peace of the artist's pictures found its place in her heart. Only when Elizabeth said, "Blessed are you among women," did Mary lose her troubled thoughts. Listen! Can you hear her joy when she sings?
My soul glorifies the Lord
And my spirit rejoices in God my Savior,
For he has been mindful
Of the humble state of his servant.
From now on all generations will call me blessed
or the Mighty One has done great things for me—
holy is his name.
The artist says there is sweet repose and calm acceptance when martyrdom is thrust into our laps, but this is not so. For a time we may be troubled, as was Mary, but in the end, as we begin to understand, we will find our peace, as did Mary when the choice to give is ours.