Books in Progress
I'm currently
RESEARCHING
the story of Narcissa Prentiss Whitman,
WRITING
my memoir, and
ILLUSTRATING
the Seattle Sweetbriar books for reissue.
If you want to know more,
you'll find updates in my Blog, easily tapped by going to the sidebar and looking under Blog Subjects.
---
NARCISSA PRENTISS WHITMAN
In 1831, three Nez Perce and one Flathead Indian
went east to see General Clark of Lewis and Clark fame. They thought he could give them the white man's Book of Heaven and teachers.
The story broke two years later. Narcissa Prentiss just
had
to answer this modern-day Macedonian Call. She'd stop at nothing, even if it meant she had to marry a stranger.
In 1836, she and Dr. Marcus Whitman ventured West under protection of the American Fur Company brigade. While the Company could offer protection from the Pawnee and Sioux, it could do nothing to protect Narcissa from her old nemesis, Henry Spalding. Years before, she'd spurned his demands for marriage. Now he traveled in her shadow as part of another missionary couple. His bitterness had only deepened.
Is the mission in jeopardy?
Narcissa's litte sister Harriet gave her the goodbye gift of a portable writing desk so she could write letters home. A natural born writer with an ear for language and an eye for beauty, Narcissa wrote letters
and
journals. I use these and dozens of other resources to inform her tale, but write in first person so you can become her friend—and experience with her all the trials of the trail and triumph at her journey's end.
---
WHEN STONES CRY OUT
— Luke 19:39-40 —
"Teacher, rebuke your disciples!"
"I tell you," he replied, "if they keep quiet,
the stones will cry out."

EVERY MORNING MY COFFEE CUP admonishes me to write my own story. "write your own story" and an old-timey typewriter wait for me to curl in the paper.

I've resisted. Who was this skinny little kid who didn't fit in, at odds with her culture, especially the church? If I were a jigsaw puzzle, I'd have to report myself a sprawl of pieces, box gone. I was without a picture. Was there even a story to tell?

Recently I was clipping seventy up the I-5 corridor of Washington State, when, just past Exit 199 going north, a radio interview with Dr. Thomas W. Boyce caught my attention. He'd authored a new book - The Orchid and The Dandelion: Why Some Children Struggle and How All Can Thrive. It dawned on me I was an Orchid, my defaut to fear driven by my biology. He understood the science housed at my molecular and cellular levels . By the time I took the exit into Bellingham, I understood myself not only an Orchid in a Dandelion world but also an Orchid in a Dandelion church. No wonder I chaffed. I resolved to order the book.

Maybe I should curl in some paper. I've learned something. But where to begin? Perhaps when I was six and Jerry Harris knocked my crayons all over the floor at James Park School.
---
SWEETBRIAR ILLUSTRATED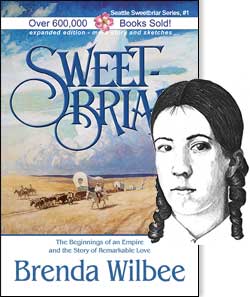 When I wrote Skagway, I discovered how fun
it was to illustrate the Alaskan gold-rush miners and everyone else "mining the miners." How fun would it be to illustrate
Seattle's
pioneers and earliest days? And reissue the Seatte Sweetbriar Series? The books have long been out of print, but I still get requests for copies. Last week I heard from three women, one in Australia, asking for reprints. I had to sigh and say a sorry "No, nothing yet. But I'm working on it."
In case you've forgotten Louisa—or you're too young to know her—I give you the original back cover text.
In 1833, Louisa Boren journeys West to carve out a new way of life. Out of her rugged determination and deep faith comes an enduring love and the founding of one of America's greatest cities.

Twenty-four and unmarried, Louisa is an unusual woman for the year 1851. And she knows what she wants—David Denny. An empire builder, David Denny is a born pioneer and destined to be the founder of Seattle, Washington. But he is only nineteen...and the younger brother of James, whose love for Louisa runs deep.

The saga of the Borens and Dennys, the conception and birth of Seattle, and more ...
---
Reminder:
Research fun, writing a memoir, and
illustrations galore are indexed in the sidebar under Blog Subjects.
Look for NARICISSA, MEMOIR, and SWEETBRIAR ILLUSTRATED.
__________________________________________
Please feel free to contact me. I'd love to hear from you.