A Love Story and Royal Lineage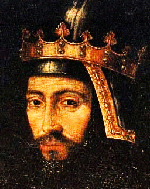 WHEN I GOT INTO GENEOLOGY, I did not expect to find myself a descendent from the first kings and queens of England, Scotland, and France.
One of the more interesting stories is that of my 18th great-grandparents.

John of Gaunt is the fourth son England's King Edward III's, third to survive infancy. Katherine de Roët is the daughter of a knight brought to England when King Edward III married Phillipa of Hainault, modern-day Belgium. The story, then, of the king's son and daughter of the queen's knight is hands down the most endearing and enduring love affair in all of English history.
---
John of Guant was tall, lean, handsome, a mighty warrior, chivalrous, and politically astute. He was also, by marrying Blanche of Lancaster, the richest and the most powerful man in all of England, second only to his father the king—my grandfather King Edward III, and so great a prince was John that he has been called the Greatest King England Never Had.
My grandmother Katherine was renowned for her beauty, her kind and gentle nature, her financial acumen, her creative independence, most of all her piety—despite being his mistress. Her father, having been brought up from Hainault with Queen Phillipa, put her in the English court where she was raised alongside John and his many siblings. She did not become his wife until late in the game. Still, she was (and is) called "Mistress of the Monarchy," for it's through her children, given the surname Beauford, that Katherine became grandmother to both English and Scottish royalty. Today Queen Elizabeth and I share John and Katherine as grandparents.
Several books have been written about their illicit and enduring love. Their devotion to each other knew no bounds and withstood the test of time and censure of church and state and public opinion. Lovers for twenty-five years before finally being able to marry, a papal dispensation, I'm not sure why there's never been a blockbuster movie made, for their story is the very stuff of Hollywood: adultery, betrayal, chivalry, passion, sacrifice, separations, and murder. Ultimately, their devotion to each other changed the course of the royal bloodline and altered English history.
The very least that can be said about their relationship is that without them I would not exist.