Finding Fred: 4 of 4
Fred and His Girls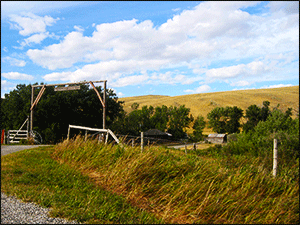 Here too in Pincher Creek is the old homestead and home of my mother's lost-and-found cousin, Doug Connelly, keeper of the Bagley artifacts, manuscripts, and family Bible. Doug's grandfather homesteaded this land and his mother, Fred's youngest daughter, married into this cozy place on the prairie.
I hardly knew what to expect when I drove up to the gate--though my mother insisted and assured me that Doug and Sally would be happy to meet me. Turns out Mum was right, so right in fact that Doug and Sally let me spend the entire day at their kitchen table pouring through letters and military orders and diaries, and showing me the many artifacts still in their possession. Much of the material has been loaned out to Glenbow in Calgary and the little museum in Pincher Creek, but Doug has retained several of our grandfather's things: a swagger stick; a cane of sorts; a souvenir horse-bit given him when he escorted Queen Victoria's carriage in her Diamond Jubilee parade through London's streets in 1887; a silver tea set he won in a rifle competition.
The most fascinating, however, was my mother's name recorded in Fred's handwriting in his Bible. There she was, Shirley Elizabeth Goodfellow—Oct. 2, 1928. My mother's name, Fred's pen. I think I loved my great grandfather then, and I found it hard not to cry, to see that he did in fact acknowledge my mother. The image of Fred wheeling a wicker pram onto the train in Banff and off again in Vancouver, a gift to Mum, came to mind. Fred Bagley loved my mother.
This much came even more clear as I read his many letters to his youngest daughter Marian. His affection, his humor, his delight in all three of his girls—Kate, Pittysing (Leona), and Tiny (Marian)--comes singing off the antiquated pages. And his joy and concern for his grandchildren are equally evident. Did he, each October 2nd, wonder where his eldest grandchild was? Did he wonder how she was doing? Did he look at her name in his Bible and ponder the mysterious circumstances that brought about their separation? Did her invisibilization bring him sorrow? I think it did.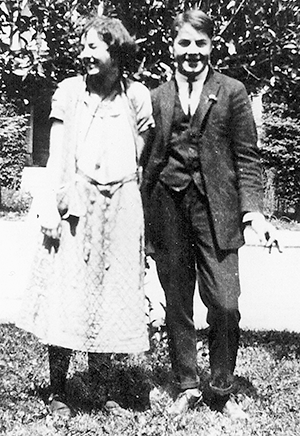 He was a man who kept track of his brothers and sisters scattered about the States and Canada; he kept track of his daughters; he loaded his Christmas tree each year in Banff with gifts for Dale, Doug, and Mick. Did he miss not having presents for Mum?
The other discovery that made me happy were three photographs of my grandparents: Les and Leona. All three pictures reveal an affection and energy between them that one will never find in any remaining photographs of me and children's father. Despite whatever happened, Les and Leona were a couple in love—and in love over a long period of time.