Finding Fred: 2 of 4
Fred's Early Life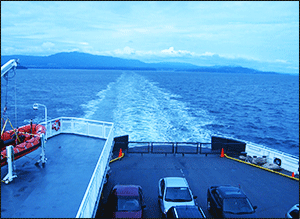 RESEARCH ON FRED'S EARLY LIFE
begins not on the prairie but on Vancouver Island with my mother's half brother and his wife—Dale and Penny Bent. Penny is the expert on Fred's early life and that of his father—my great-great-grandfather Richard Bagley, an Irishman. My mother, brother, and I have been looking into Fred post-Mountie, Penny's been researching him pre-Mountie. I drove up through Vancouver to Horseshoe Bay and boarded a ferry for the 2-hour trip across Georgia Straight to Nanaimo to see what information she might have.
---
Below deck and parked, I got a binder of my research from the jeep, hoofed it up three flights of stairs, and hunted down the cafeteria where I began reacquainting myself with what material I had while eating some very bad scrambled eggs and not very good sausage.

My aunt and uncle had retired to Nanaimo from London, Ontario, and I found their new abode on a hillside overlooking Departure Bay. Ferries go in and out all day; on clear days you can see Vancouver across the water. It's just about the nicest place to live. But the view paled in my excitement to see what Penny had unearthed. She'd gone back six generations to my great-great-great-grandfather Col. James Bland, a Scotsman born in 1793. A retired officer in the Royal Imperial Navy, he remarried and spent his remaining years on the Island of Jersey in the English Channel. Fred remembers visiting the old colonel, carried ashore by his mother. The memory is vivid, he wrote, because, despite being just two years old at the time, they'd arrived in a storm and heavy waves crashed up over the board walk. This was 1860, eve of America's Civil War.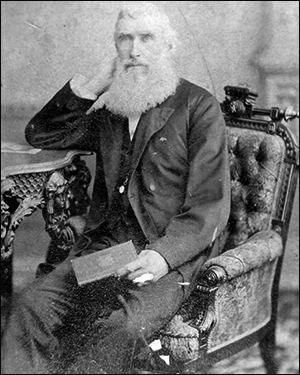 Let's back up. Two years before, Fred was born in the West Indies. His father, Richard Bagley, was an Irishman, also enlisted in the British Imperial Navy. He'd been sent to the West Indies, stationed thither and you, and in Jamaica it seems he met Catherine Ann Bland Baker, daughter of Col. James Bland and wealthy widow of Dr. Gordon Baker. Though born in Barbados and raised in the West Indies, finally findng a home in Jamaica, Catherine Ann Bland Baker always identified herself as Scottish, absorbing her father's heritage. Of her mother, we know only her first name: Rebeccah.

Why did Catherine Ann, a wealthy woman, stoop to marry the low life of Britain's Royal Navy—and give up her luxurious life for the impoverishment of army life in disease-ridden forts? This was not a shotgun wedding and can only be explained by love. Yet, why did the navy let Richard marry her? Non-officers were routinely denied wives. Their pay couldn't support it, the work was unforgiving, and living conditions harsh. Yet they were married and Richard came into Catherine's money—and the doctor's sugar plantation, perhaps part of the much larger "Gordon" estate that comes into the story later.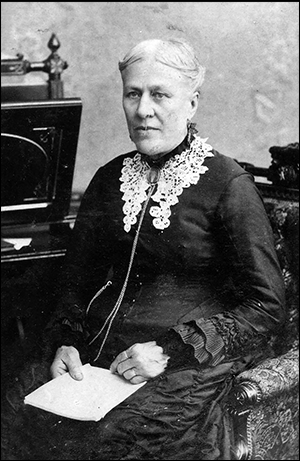 Did Catherine Ann, blinded by love and promise, ever envision him "pissing" it all away? She should have. But then, if she had, I wouldn't be here.

Their daughter Nellie was born first, in Belize; Fred came next, in Kitts, Jamaica; and his earliest memories were of crying and being shushed with a sugar cane, given him by a black nanny. He wrote that it turned him off sugar for life.

The black nanny disturbs me. England had abolished slavery in 1808, but it wasn't until 1838 that Jamaican slaves became fully emancipated—just twenty years before Grandfather was born. This black nanny would have had little choices for herself back then, and if over twenty-five, could have been deeply traumatized by her own slavery. Attitudes take time to change and she was part of a race that, in Jamaica, had been over-the-top brutalized. I wonder what her history was.

When Fred was two years old his father mustered out of the navy, took his wife's money, and moved them all to Devon, England. This is probably when Fred visited his grandfather on the Island of Jersey.

The next ten years—1860 to 1870—saw the family bounce one town to another, Catherine having babies every two years in a different part of the country. It seems her husband used her money, at one point, to open a tavern: A daughter writes that though were all small they helped with the work. Times were different then. No child labor laws. And in just about every Dickens book I have ever read, kids scraped plates in kitchens and racked the muck out of stables, their only pay a knock upside the head. But what was all this moving around really about?

His children write that he burned through their mother's money pretty fast. I suspect he was running from creditors as well.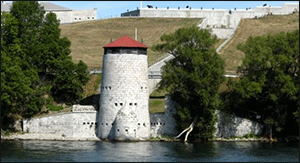 Canada confederated in 1867 while Catherine Ann followed her husband pillar to post. When he learned in 1870 that he, a Chelsea Pensioner (retired from the navy) could enlist as a pensionioner soldier in the new country, he jumped at his chance to begin again. Free passage his, he left his family behind to fend for themselves, and was stationed at

Fort Henry

in Kingston, Ontario, where he served as part of the British military presence in the brand new country—a very necessary deterrent to the aggressive ambitions of a post civil war America.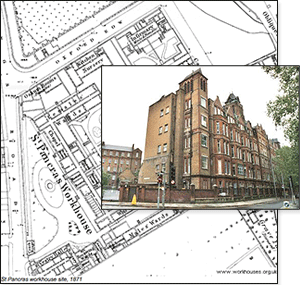 Canadian census records show Richard in Kingston in 1870, while English census records show his wife giving birth to yet another baby in 1871. Further records show her living in abject poverty, eeking out a living in the London slums as a dressmaker before finally, at long last, succumbing to the

Pancras Poor House

. Fred seems to have refused the humiliation and as a 12- and 13-year-old kid ran free on London's streets—right up to when he was brought in for preparation for their departure for Canada.

Who paid for their tickets? Aid societies abounded, trying to deal with the overwhelming poor in England's burgeoning economic decline. But why would Catherine Ann even want to join a husband who'd left her destitute? She might well have loved him once, but now? Yet what other choice did she have? Fred was thirteen when they eventually on the sailed for Canada on the Sarmatian. We'll never know her feelings.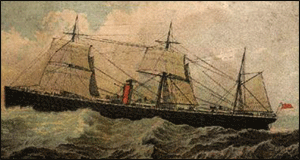 The British Army schooled the Kingston children up through fourteen years of age. Very quickly, Fred reached the end of his schooling. He joined Kingston's Battery "A" as a bugler and enrolled in the gunnery school. But when recruitment notices for a newly formed Mounted Police Force to police the Canada West went up, he hightailed it down to the recruitment office, thinking he could lie about his age. He was fifteen. Though he looked much older.

Good plan, but he ran into the commandant of his school—Col. French. Worse, Col. French went round to his house to report him to his father and, according to some reports, there was quite the row.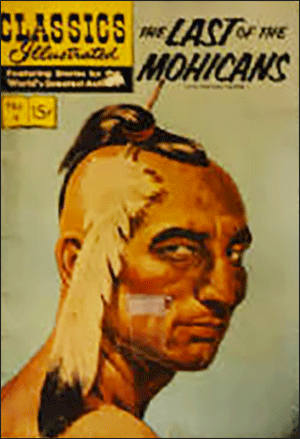 A self-confessed student of James Fenimore Cooper's

The Last of the Mohicans

, Fred yearned to save the Indians out west from the dastardly American whiskey traders and envisioned himself "hobknobbing about with dusky Indian princesses."

This no doubt true, but I have to think he was, in part, running away from home. Dick was a harsh man. To punish his boys, he took them out to the gym and boxed them into defeat, then beat them with a belt. Around the girls he managed to keep his fists to himself; nonetheless, they feared the lash of his tongue. So there must have been a hard fight. Finally Dick, as he was called, acquiesced. "Go ahead and take the lad! He'll get over his fascination for buffalo and redskins in short order, I reckon. If nothing else, it'll make a man out of him. But on one condition," he added. "He can only enlist for six months."

Like hell, Fred must have thought.

"Agreed," said Col. French. Yet he had to know this was a one-way ticket, no nanny to take the boy home.

The Force pulled out of Kingston in June, 1874. Catherine Ann bid her oldest boy, not yet sixteen, adieu amidst all the fanfare, reminding him to say his prayers each night, and gave him a gold watch and chain and a diary that helped me find him a hundred years later.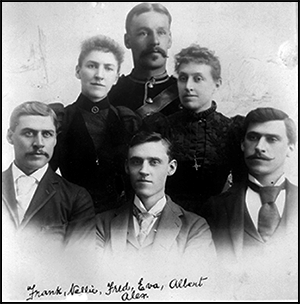 Poor Catherine didn't see him for another fourteen years. The occasion, it seems, called for this remarkable photo with Fred with his younger siblings. He didn't stay long and was soon back on the Prairie.

I'm not sure how I would have fared if I'd been adopted out. I have always been conscious of the various aspects of my personality reflected in not just my family of origin but in my extended family. Oh, I am behaving just like Auntie Vi! I might say. Or, I think I'm standing just like Grandma used to." To have the missing pieces visibilized is a rare gift.

And for this treat I owe a special thanks to Mum for spotting her grandfather in the Fort Macleod Museum, to Uncle Dale for negotiating my eventual meeting with his and Mum's mum, and to Aunt Penny for her years of research that tell me a little bit more of who I am.
Thanks et merci.