Finding Fred: 1 of 4
I Have A Great-Grandfather
We old 'originals' are prone sometimes to believe that we are neglected or ignored by a generation that 'knew not Joseph' and his works. —Frederick Augustus Bagley
THE FAMILY MYTHOLOGY surrounding my great-grandfather Frederick Augustus Bagley was limited and unpleasant when I was growing up. His daughter was a missing grandmother in my life—a woman who had, it was said, abandoned my mother when she was just six weeks old. Where Leona had gone or wherever she was, no one knew and none seemed to care. And while the judgment against her wasn't particularly harsh (her actions explained away as depression and Granny Goodfellow, after all, had been quick to step in and raise baby Betty), Leona's father, my great-grandfather, came under a much harsher light. When Leona asked if she could leave her husband and come home, Frederick Augustus Bagley had apparently said, "Yes, but leave the brat behind."
And so while I loved and missed my missing grandmother, and grew up yearning to find her, I secretly resented my great grandfather. After all, had he been a bit more understanding of whatever the plight may have been in 1928 my mother would have never been an orphan of sorts and my missing grandmother would not have gotten lost. Who was this man who thought my mother a brat? I didn't care. I just wanted my grandmother.
I
was fourteen when my family drove into Banff, Alberta, for the first time. I was sitting in the back seat, between my two sisters. I had a straight-on view as we came in—the Rockies climbing up the sky all around me, just ahead the stone bridge and stately old hospital. I scooted forward with an exuberance new to me. In my fourteen years we'd moved a lot; any sense of home had dissipated, leaving me with a feeling of transience. But driving into Banff I recognized home. Here, I belonged. Here were roots. Here was my energy source.
Why? I didn't know.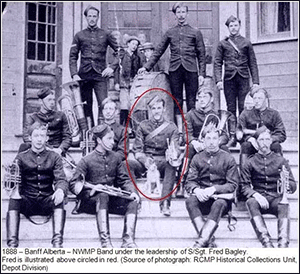 I didn't know that my great-grandfather had been a Mountie, that he'd been stationed here for a time, that Banff was, in fact, where he'd chosen to retire because he loved it so, that he was buried here in the little cemetery left of the bridge. I didn't know that he'd started the Banff Springs Hotel band, or that he'd started the little band in Bankhead, the CPR ghost town just north of Banff—another magical place I wouldn't discover until I was in my thirties. Nor did I know that my missing grandmother had at some point taught school here. I didn't know any of these things. But obviously my DNA did. The part of me that is my great-grandfather, and to a lesser extent my grandmother, was joyous to be home again.
At the time we were living in Ann Arbor, Michigan, and were on our way back after spending the summer, as we usually did, at my paternal grandfather's beach house outside Vancouver. It was with great reluctance that I said goodbye to Banff, yet…in grade four, Miss Bilby had told us stories about growing up on a farm outside Regina and it took my breath to see the prairie unfold as we dropped down out of the Rockies to meet the plains. Was it her stories that made my spirits soar? That gave me that sense of recognition and delight? Perhaps. Yet I'd heard many stories of wondrous places that didn't, when experiencing them for myself, evoke such a keen sense of connection. We passed Dead Man's Flat and drove right into the lapping waves of an ocean of grass that in actuality was my great-grandfather's country. I didn't know he'd spent his life here, that he'd policed the thousands upon thousands of square miles of earth and sky so flat and far-reaching it boggled my mind. I didn't know…yet I must have known. I was recognizing land I loved and didn't know I missed. Perhaps this is why Miss Bilby's stories had meant so much to me.
We pulled into Fort MacLeod in Southern Alberta. My sisters and I—thirteen, fourteen, and fifteen years old, me in the middle—were looking at the doo-dads displayed in the gift shop, trying to keep an eye on our five-year-old brother, when all of a sudden our mother, peering intently at every photograph on the wall, started to shriek: "Roy! Roy! Come quick!" She was hyperventilating, I think—but then the whole scene is probably dramatized in my mind for we were teenagers. Dad went over, I hid behind a bookcase; she was not my mother. "Look! Here's my grandfather! It has to be him. 'Frederick Bagley, Crack-shot of the RCMP,'" she quoted and I came out from behind the bookcase.
"Your grandfather was a Mountie?" I asked, meeting his eyes and thinking, he looks like a decent sort.
She was headed for the cash register. I tore my eyes away from this man whose bloodline I carried and quickly trundled along behind my mother, ears on high alert and wondering why I'd never been told this bit of information. He was a Mountie? I pictured of the red-tuniced men parading around on frisky horses in Vancouver's Stanley Park.
The long and short of the ensuing conversation at the cash register was that the curator was just then reading Fred Bagley's diary, written when he'd crossed the prairies in 1874 as a fifteen-year-old kid. One year older than myself! His diary, however, was open only to family. So why give it to the museum? I privately wondered while Mum patiently explained she was family. Didn't matter. She still had to get permission from the estate, held in the hands of his three daughters, Kate, Leona, and Marian.
I had to sit down. How did Mum feel about this? My own heart was hammering, high on unexpected hope in the air. [ Jan 2018—the rewrite of Grandfather's diary is now on-line and can be easily viewed at https://albertaonrecord.ca/fred-bagley-fonds. ]

Mum got the address of her Aunt Marion, Leona's sister. We drove out to my great-aunt's roadside farm and Dad pulled over onto the highway shoulder, and we sat for what seemed like an eternity while Mum mulled things over, hope humming all around me like bees in the sunflowers. "Let's go on, Roy," she finally said and the bees fell silent.
That was that. We drove away, not knowing Leona lived only a short ways away, only that she'd remarried and that his name, too, was Roy. Roy Bent.
Three years later we were living in Iowa. My parents put my older sister and me on the train in Fargo, North Dakota. Linda and I were headed for Winnipeg, where an uncle would meet us and drive us out to Lloydminster, Alberta. There we'd spend a few days with our cousins, then take the train to Vancouver for another summer on the West Coast. I didn't know, ticket in hand that hot, sultry June day in 1969 that my departure point was, in June 1874, our great grandfather's train terminus, end of the rails.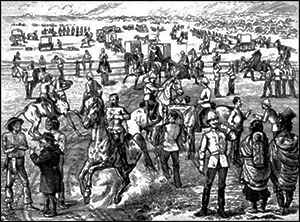 I didn't know that the newly formulated RCMP (in civilian dress, for they'd skirted the Great Lakes by special arrangement of the American government) had disembarked here and "dumped" their baggage onto the "bald-headed prairie." In 1969 I saw wheat and corn stretching as far as the eye could see. In 1874 our great grandfather saw acres of " uniforms, arms, ammunition, provisions, bedding, saddles, harness, wagons, hay-rakes, ploughs and harrows." I didn't know that he, by special dispensation from his father and Colonel French, had been allowed to join as the force as its youngest member and bugle boy. I didn't know that he'd rubbed the sleep out of his eyes the very next day and sounded Reveille at 4:00 a.m.; I didn't know that he and 200 other men and sixteen officers put together 200 hundred sets of harnesses, 300 saddles, and 75 heavy wagons; I didn't know that his "D" Troop pulled out with twenty-nine fully loaded wagons at 5:00 p.m., headed for Winnipeg; that "E" Troop followed at 7:00 p.m.; and that "F" Troop, left behind to clean up, got under way the next day—without benefit of my great-grandfather's bugle to wake them. I didn't now any of this. I was already in Winnipeg and it was exactly ninety-five years later.
In Lloydminster, my aunt took Linda and I to an RCMP band concert, front row seats, with our five cousins. We were all musicians. Linda was a flutist, I was a clarinetist, and my single most joy in Ann Arbor, Michigan, had been our middle school band and symphony where we were the recipients of exceptional directing and private study—an unstated requirement if we were to participate. Consequently, Slauson Junior High won numerous awards and today, when I listen to our recordings, I am astonished. I was in "high fiddle" to attend the RCMP band concert.
Two erect Mounties in dashing red jackets and gold braiding stepped out, curtains still drawn, from stage left and stage right, with five-foot long bugles that glimmered in the light. The executed a few fancy steps, faced each other across the space, snapped their horns into position and, without warning, shot the clear tenor tones of "Oh Canada" into the air with such pomp and circumstance that the short hairs along the back of my neck stood up and I was on my feet without knowing quite how it happened. The crowd was not far behind and I bit back tears. I may have lived in the States for four years, but my loyalty was Canadian and I thought at the time it was the sheer excellence of the music and being "home" that had triggered my nationalistic pride and an ecstasy that never, in fifty-five years, has ever been repeated.



What I didn't know was that my great grandfather, asleep in my DNA, recognized his work and awoke, and that it was he who propelled me to my feet in a shock of joy that can only come after a century of sleep. Frederick Augustus Bagley, bugle boy, had made the RCMP his career and it was he who'd started so many of these bands. Together, unknown to each other but one and the same that night, we listened, our hearts caught in a surreal space where time and distance blended for one magical evening in the harmony of familiar sound.
I was thirty and back living on the West Coast when I began my summer treks to Banff and the prairies. In the silence of my missing grandmother, I'd taken to finding what I could of her dad. The Whyte Museum is where I learned of his short stint in Banff, that he'd returned and retired there, and was buried. I also learned that he'd started the Banff Springs Hotel band. Now that was interesting—and some of the pieces began coming together for me. My musical interest for one, but certainly my passion for Banff.
My first trip to Calgary's Glenbow Museum, however, gave me a start—and then made me mad. I came across a slip of paper in my missing grandmother's handwriting. Leona had been asked by a Calgary school classroom to submit a list of Major Fred Bagley's descendents for a 1974 mountie centennial project they were working on. She listed herself, a son and three granddaughters—Leslie, Maia, and Elizabeth. After the shock of seeing her handwriting—she was real!—I allowed the information to sink in. The first thing I noticed was that there was no mention of her first husband Leslie, my Grandpa Les. No mention of her daughter, my mother Shirley Elizabeth, whom everyone called Betty. Certainly there was no mention of us, of me. And then it hit me. The names.
Leona, for whatever reason, had separated from Leslie—yet her eldest granddaughter bore the same name. She'd supposedly abandoned her infant, Shirley Elizabeth—yet her youngest granddaughter carried the baby's name. And, like her daughter "Betty," Leona had married a man named Roy. Coincidence? I was beginning to suspect that our unacknowledged and unknown past struggles for recognition; that we have less choice than we think. We are compelled, and the people around us are compelled, to name the past.
This was the summer I discovered Bankhead—and, happily, Louis Trono. Intrigued by the Bankhead history ParksCanada listed in their brochure and on the various site signs posted about the old ghost town north of Banff, I asked in town if they had any further information. They let me see a short documentary and in the flickering darkness I wrote down the names of the elderly men and women being interviewed. They'd grown up as children in Bankhead, their fathers the coal miners brought in by the CPR from all over Europe.
"You want to know more about Bankhead?" Louis Trono asked when I knocked on his front door later that day, one block off Banff's main drag. Graciously he invited me in, called for his wife, Joy, to bring us some iced tea for the day was hot. "Tomorrow might be a better day," he said as we settled in, a lively Italian, eighty-four years old, with slicked back hair and coiled energy. "I have to leave in an hour to rehearse at the Banff Springs Hotel. We play every night."
"Really?" I said, perking up. "My great grandfather started that band."
Mr. Trono plunged forward in his stuffed chair. Iced tea slurped up over the glass brim, down his fingers. He didn't notice. His eyes were on me. "You're the Major's granddaughter?"
I started to ramble about my lost lineage, my search of my grandmother, how I had to content myself with Fred Bagley. Mr. Trono interrupted, smile so big, leaning across the room to shake my hand again. "This is fine! This is a pleasure! Joy!" he hollered. "We have the Major's granddaughter here!" She came running, a woman twenty or thirty years his junior. More handshakes.
"You knew my great grandfather?" I asked, the bees back in my ears and humming. "You knew him?"
"Knew him? He came out to Bankhead and started the Bankhead band. He taught me how to play the trombone. I was only in knickers. At first he said no, I couldn't join. I was just a kid. I kept badgering him. He finally thought to shut me up by giving me his old trumpet. But I blew my lungs inside out for a week until I finally got the hang of it, showed up at the next rehearsal, and he had to let me have a shot. I'll never forget the look on his face. He turned to the big guys and said, 'This lad is a musician, boys. If the rest of you ever learn to play half as good as—what's your name, Sonny?—Louis here, I should be so proud.' But your granddad needed a trombone player—so I've played trombone all my life, all over the world.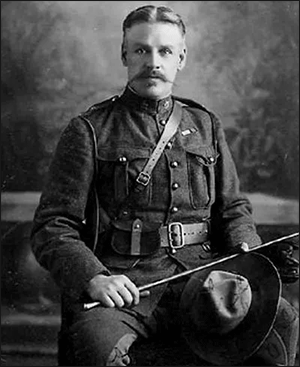 "Did you know your granddad played at Queen Victoria's Jubilee? He taught me well. I played for Queen Elizabeth. And I've been more places playing music than even your granddad, he was famous for his music, you know. I owe him life, my livelihood, every wonderful thing I've ever known in life. Everything. He gave me new direction in that old ghost town, I am indebted to him. And here you are…"
It was too much for the old man. He flopped back in his chair. Joy fussed and clucked. I started to make excuses, asked when I could come back. I, too, needed some time to process the surprise. "Your grandmother?" he said, pulling out of the shock. "What was her name?"
"Leona." Bees swarmed through the room, honey in their wings.
"Joy, was it Leona?" he asked, "who taught Marco in grade two?"
Joy pulled out some old school pictures. "Yes, she taught at the little elementary school a few blocks away." Linda, I thought, thinking of my older sister and seeing my grandmother for the very first time, would be interested in this. Linda was an elementary school teacher, and loved the second grade.
"Are you in a hurry?" Mr. Trono asked, glancing at his watch.
"No, I was going to go over and see if the Craigs would talk to me about Bankdhead."
"Do that tomorrow. I'm taking you to rehearsal, to introduce you to the boys. They're younger than me, they didn't know your granddad, but they know of him. Hey, I'll buy you supper at the hotel. We can visit, and you can stay and listen to us play for the evening."
Over grilled trout at the Banff Springs Hotel, "Louis" told me that when Bankhead closed down in 1919 all the houses were taken into Banff or Canmore, a little town five or six miles east. "I was twelve. My family moved next door to the Major on Beaver Street and summer afternoons he had us boys over to play with his swords. He taught us how to parade. I of course continued my music lessons."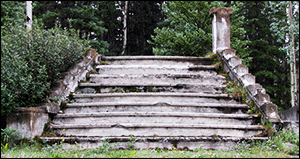 The next day found Louis and I in Bankhead, laying out the huge maps I'd gleaned from the museum, Louis putting stones on their corners to keep the wind at bay, everything spread over what was once, he said, the curling green. He filled me in on who lived where and what they were like—and fed me details of my grandmother and great grandfather as they came to mind. He regretted not having made it his business to learn everything he could. "I was a kid," he told me, taking me over to the old Catholic church, now a basement and stone steps rising to meet heaven. "We didn't care about that kind of stuff, but once he passed on? I regretted knowing so little."
Yet what Louis told me that summer and over the next several years confirmed my growing suspicion that Major Frederick Bagley, despite all reports of his grand, military bearing, could never have called my mother a brat. And if this much of the story wasn't true?
I started to feel a sense of desperation to find my grandmother. What history begged to be told?
Unbeknownst to me, when the bees fell silent outside my great Aunt Marion's house, my mother still heard them, and had written her aunts and mother three times for permission to have a copy of her grandfather's diary. Three times she'd been ignored and I think it was this rejection that stung. Or perhaps these were my own feelings, and I visited them upon Mum in my growing reversal of feelings—love and admiration for Fred, less for Leona. But was this fair?
I had children of my own when Mum got a phone call. She and Dad were living in St. Paul, Minnesota, at the time. "You don't know me," the man on the other end of the line said, "but my name is Dale Bent."
Mum reports that her knees weakened, and she sat down. "You are my brother," she said.
"Yes. And I have something I think you'd like."
And so a brother walked into Mum's life, an uncle into mine, bearing the diary Mum had wanted so badly that she'd risked, three times, her mother's very pointed rejection.

In the end, it was a death bed sort of confession that brought us Fred Bagley's diary. Aunt Kate was dying. She called in her nephew, told him there were three letters, that his mother had been married before, that he had a sister, that she wanted their grandfather's diary. Could he deliver it to her?
He could, and did. That was the good news. The bad news was that his mother—Leona—didn't want to know anything about us. A slap in the face. This grandmother I yearned for not even interested to know if I existed? Stung, I nevertheless resolved to look at it from her point of view. What was an old woman supposed to do when past became present?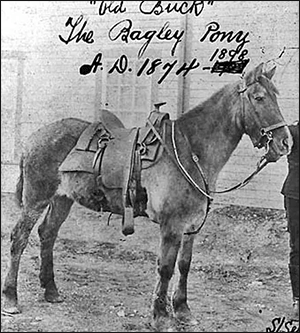 My third trip to Glenbow was with Mum. She wrote to see what artifacts they might have of her grandfather. I'd never thought to do that, and so was delighted when we were taken into the archives to see and handle a collection of his uniforms, accouterments, manuscripts, even a horse's hoof. A Mountie's regiment number, we learned, was always carved into his horse's right front hoof so that if his horse ever returned to the fort unmounted the others would know who to look for. "He's actually quite a famous horse in Mountie history," the curator explained, telling us the story of how Fred Bagley had "stolen" the bay out from under the nose of a fellow Mountie. "Unlike other Mounties, whose horses were periodically assigned and reassigned, your grandfather managed to hang onto his, and when it was too old serve, rather than being consigned to the glue factory as was the policy, this horse," she said, handing me the hoof, "was put out to pasture. Old Buck lived to the ripe old age of 32."
"Buck, as in Buckwheat?" one or the other of us asked.
Once-upon-a-time my younger sister had snuck a cock-a-poo puppy from Bellingham, Washington, onto the plane and taken him as gift to St. Paul, Minnesota, for our mother. Mum had called him Buckwheat—Bucky for short. I thought of the other names we shared—Leslie, Elizabeth, Roy…and now Buckwheat for our pets. How was that possible that a man in 1874 could call the horse he fell in love with the same name that his granddaughter, lost to him, would give her own pet a hundred years later? In the name of all that is rational, how is this possible? I handed Buckwheat's hoof to Mum, K 1 carved into it, grateful for this curious knowledge.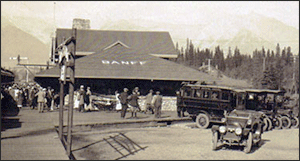 Was it this same summer Mum and I went up to Banff, where we walked past the old train station one evening? "Granny and Granddad had a summer cabin here," she told me. "Granny often brought me up here from Calgary on the train. Back in those days, the Banff Springs Hotel band came out to greet the trains and to play, always conducted by a kindly old man with white hair with the most regal bearing. I was fascinated by him. I'd dawdle along, staring at him over my shoulder, Granny hurrying me along with a stern 'come along, Betty.'"
"According to Louis Trono, Mum, that would be your grandfather," I said.
"I thought of that when you first told me about Louis."
Did Fred Bagley ever sense his granddaughter's eyes on him as he directed a rousing "God Save the Queen?" Did he ever catch sight of Granny Goodfellow hastening by, anxious to keep them apart? Did he even know they had a cabin a few blocks from his own?
I took my sons to Glenbow when they were twelve and fourteen to help me go through all the photographs. I was getting desperate to meet my grandmother and wanted to get my hands on a picture that could tell me more about her. We found only one of a child—which daughter was this? Conflicting reports of how many girls Fred Bagley had—anywhere from seven to the three I knew about—provided no clue. I asked for a generated photograph of this unknown child looking over her dad's shoulder. I'd pretend it was Leona.
It was Phil—the same age I as when I first felt the call of my great grandfather—who asked the curator where his great great grandfather's badges might be located. We'd gleaned enough information over the years to learn there were many. "Probably in someone's musty attic or moldy basement," the librarian offered with a grimace. "If you ever find them, let us know."
Pincher Creek was a name that kept popping up now and then in my research. It was new country for me and I was curious. I was in talking to the curator at the little museum there when the boys came flying into the office, out of breath, exuberant. "We found them! We found them!"
"Found what?"
"His badges!"
Sure enough, there they were, high on the wall, pinned to velvet and encased in glass. To say he had a lot was putting it mildly. A plaque read "ON LOAN FROM THE CONNELLY FAMILY."
"Who are they?" I asked the librarian.
"A local family."
"Any relation to the Bagleys?"
"Cousins of some kind, I think."
I rather liked the idea of having cousins of a sort in Pincher Creek. But it my grandmother I wanted to meet.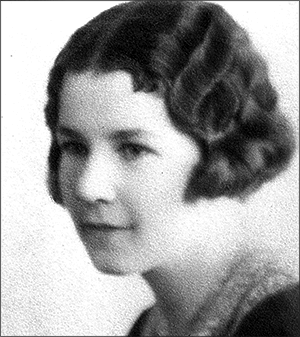 Somewhere along the line my mother's brother gave me a picture of their mother when Leona was 15 or 16, an early Flapper Girl!

The spring I turned forty my desperation reached a point of near panic. I wasn't getting any younger, neither was Leona. I called my uncle; he came up with a plan. I'd fly out to London, Ontario, where they now all lived. He'd introduce me as a family friend; in this way I could at least see her and get to know her. I had my ticket in hand when Phil, now a shocking six feet, four inches tall and skinny as a rail (shocking because no one on either side of his family for as far back as we could trace had ever stood over six feet tall), said, "Mum, if you go meet her as a friend of the family, you'll never get to meet her as family. And isn't that what you really want?"
Fred Bagley had been fifteen when he left home. Phil was fifteen. I stared at my son—and tore up my ticket.
I raised my children as a writer and at some point Uncle Dale took to setting out autographed copies of my Sweetbriar series, books on Seattle's pioneer families, for his mother to find, and to read. Sometimes she asked if he knew if I'd be writing any more. "She's your granddaughter," he finally told her at some point, "you can ask her for yourself." She clammed up. The fifth in the series was released in 1997. I was 45, Leona was 93. It was then that she finally said the words I longed to hear, "I think I'm ready to meet Brenda now."
It was our common interest in history that slowly built the bridge we needed in order to cross over into each others' lives. I stepped into a beehive of hurt.
But by grandmother was reluctant to reveal the worst. It wasn't "nice to speak ill of the dead." She told me instead of her father—the man we both admired. Fred Bagley, she said, stood six feet, four inches tall; and I found it ironic that it was his six-foot, four-inch great great grandson who enabled me to find her, to be speaking with her.
He was a kindly man, she said. He had a sense of humor and loved a good joke. He had many friends. He treated everyone with dignity and respect, even the prisoners he was assigned to guard. He adored his six daughters, only three of whom survived childhood and hence the confusion. They adored him. "Oh, the good times we used to have," she said with silver in her laugh and eyes seeing back in time to where I couldn't go. He abhorred violence, she said. He suffered none to strike them and when a nun made the mistake of taking a whip to Leona's shins one day in school Lucy May, his wife, promptly withdrew all the girls and settled them elsewhere. The nuns begged that she and Fred reconsider. They did not.
Most certainly, he did not call my mother a brat.
In fact, when she was born, he took the train from Calgary to Vancouver see her—wheeling a wicker pram. Here Mum slept for lack of cradle or crib, and when she was taken from Leona at eighteen months old (not six weeks), he did everything in his power to get her back. The Goodfellows, however, were a formidable foe. My mother it seems was the only battle Major Frederick Augustus Bagley ever fought and lost.
All this very nearly didn't happen. Trouble was brewing in 1884 on the Northern Saskatchewan. First there was the "Poundmaker Racket" earlier that summer and soon there'd be Louis Riel's Second Resistance. Grandfather and his men were caught up in the tension and under orders to keep an eye on Big Bear of the Plains Cree and his young war chief, Wandering Spirit. So when Big Bear and his band suddenly pulled out of Fort Battleford in the fall of 1884 and started back to Fort Pitt where they normally wintered, Grandfather and his party were ordered to go along as an escort. A hundred years later I was there, researching Big Bear's subsequent flight from the authorities during the ensuing Resistance. I came across a hair-raising note penned by my great grandfather and my growing dislike for Big Bear's son Iamisis (The Evil One) crawled out of my belly to leave the taste of bile in my mouth--and a very real sense of fear. Grandfather wrote:
…I had to accommodate my rate of travel to that of the Indians, who traveled very slowly; consequently this trip of 95 miles with Big Bear's band took 11 days to complete, while I, on my return trip to Battleford with my men, took only 1½ days to cover the same distance. When I, with the Indians and escort, arrived at a point about half a mile distant from Fort Pitt, but on the South side of the North Saskatchewan River, I received dispatch from the officer commanding Fort Battleford ordering me to return at once to Battleford. After wheeling my men, horses, and wagons about, and starting them on the return trip, I met Ayimeesees (The Wicked One), Big Bear's son, and stopped on the trail to talk to him. He seemed to be in a very excited state, and doubted my word that there was no serious news from the South, and that Louis Riel had not yet started the expected "Rebellion." In fact, he went so far as to tell me he thought I spoke with a "forked tongue." In plainer language that I was blank, blank liar. Following his accusation he seized my horse's reins, and made a dash at me with a big hunting knife. As my men were by that time at least a mile away on the back track, and, as per my orders, traveling very fast, and, as I was, very foolishly, unarmed at the time, I took the only way out and knocked him down by driving my horse at him and so got away after my men. I am convinced that if he had had a firearm he would have shot me.
Big Bear, Poundmaker, Little Pine, Wandering Spirit…these were men I understood, admired even. But Iamisis? He was a bully and coward. He was selfish, unruly. He sought constantly to undermine his dad. At times I felt sorry for Big Bear, shackled as he was in his old age by such an unworthy son. And to learn that Iamisis had tried to murder my own grandfather? And thus me? I went down to the riverbank and stood looking at the ridge where I'd nearly died before I was ever conceived.
But no one died that nearly terrible day. Frederick Augustus Bagley went on to father Leona, then Mum, then me, then my own daughter and sons, and now my grandsons and granddaughter. He went on to bring the prairies music, and today one can hardly pick up a book on the settling of Canada West or the making of the Mounties without reading of him. Or thumb through an old Scarlet and Gold or R.C.M.P. Quarterly without finding his byline. Or see the Musical Ride without hearing his music. His contribution to Canadian heritage is significant; and in May 2007 Glenbow Museum built a new permanent display naming Major Frederick Augustus Bagley one of twenty-four Canadian Mavericks. Yet there is no one definitive work on him. I would like to see this rectified.
It's been said in many places that to tell the story of Fred Bagley is to tell the story of Canadian history. Confederated in 1867, the country was but six years old when he rode out as a fifteen-year-old kid to help establish law and order in an area the size of Europe. The Mounties were assigned the task of protecting the Natives north of the 49th parallel from American whiskey traders; and indirectly to warn off the covetous Americans. Fred's story is indeed Canada's--her past and present, for we are Canadian, not American. For me, though, to tell his story is a far more personal overlay of past and present. Grandfather left me the bread crumbs so I could find Leona. And by finding her, I found him.
He once wrote: "We old 'originals' are prone sometimes to believe that we are neglected or ignored by a generation that 'knew not Joseph' and his works."
Yet history does indeed struggle to be told; it struggles because who we were and are is our birthright.